IRNPPC Seminar - Francesca Orsini presenting East of Delhi (OUP, 2023)
The IRN on Postcolonial Print Cultures is pleased to announce its next seminar:
Francesca Orsini will present her latest book, East of Delhi. Multilingual Literary Culture and World Literature (Oxford University Press, 2023).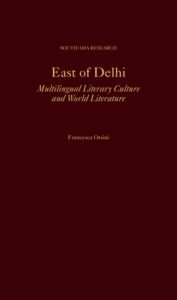 December 1st
10AM EST - 3PM GMT - 4PM CET - 5PM SAST - 8PM GST - 8'30PM IST.
The Zoom connection link will be sent to you shortly.
We look forward to seeing you there!